Exploring Investment Funds: Motivations for Investing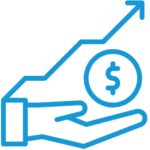 Increase in asset value
Investment funds offer the potential for increased asset value and higher returns, leveraging the expertise of professional managers to help you achieve your financial goals.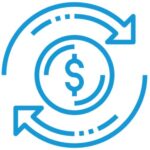 Profiting from a risk in the long run
You have the potential to consistently achieve positive investment returns by taking on a specific level of risk, understanding that higher levels of risk can lead to the possibility of higher returns, creating a pathway for profitable opportunities.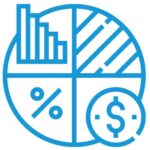 Strategic portfolio diversification
Investment funds strategically allocate your investments across various asset classes, designing a strong and resilient portfolio to withstand market volatility and provide long-term stability, effectively mitigating risk and unlocking potential of achieving higher returns.
Simplicity
Investing in an investment fund simplifies the investment process, providing convenient acces to a diversified portfolio, a wider range of opportunities, lower costs, and the professional portfolio management.
Ideal for those valuing simplicity, lacking time or expertise, and preferring professional guidance in decision-making and research.

Advantage of flexibility
Investing in an investment fund offers flexibility to adjust your investment strategy based on market conditions and your financial goals. Options include varying investment amounts, choosing different fund types, and buying or selling units as per your preferences and needs.
Liquidity
You have the flexibility to easily access your funds whenever you need them, by easily selling your units in open-ended funds or shares in closed-ended funds, empowering you to efficiently manage your financial needs and pursue your goals.
Low costs
You can utilize the advantages of economy of scale empowering you to capitalize on cost efficiencies leading to enhanced returns on your investments.
Why choosing individual portfolio management?

Client-focused approach
Through our client-focused approach to services, we prioritize you – our clients, by ensuring regular communication and individualized attention to perfectly align our solutions with your unique circumstances, delivering a tailored and customized investment experience.

Meeting the financial needs of our clients
We prioritize your unique needs, objectives, and preferences, tailoring investment strategies, asset allocations, and risk management techniques to align with your specific goals and risk tolerance, ensuring in your best interest, long-term success, and personalized and comprehensive portfolio management experience.

Lasting partnership
We place the utmost importance on fostering enduring partnerships founded on trust, transparent and effective communication, and shared objectives. With unwavering commitment, ongoing support, timely updates and proactive adjustments, we empower you to flourish in your financial pursuits, instilling confidence and satisfaction throughout your journey towards success.